EMERGENCY RESCUE SERVICE FOR FLYERS

OWNER COLONEL NEERAJ RANA RETD FULLY QUALIFIED IN SEARH AND RESCUE
CERTIFICATE ATTACHED BELOW
ANY EMERGENCY DURING OR AFTER THE FLIGHT YOU ARE ONE STEP AWAY FROM IMMEDIATE HELP
WITHIN 40 MINIUTES OF RECEIVING THE SOS THE ONCALL DOCTOR AND THE RESCUE TEAM WILL START FROM THE HOTEL SAGARMATHA.
NO WEEKLY COSTS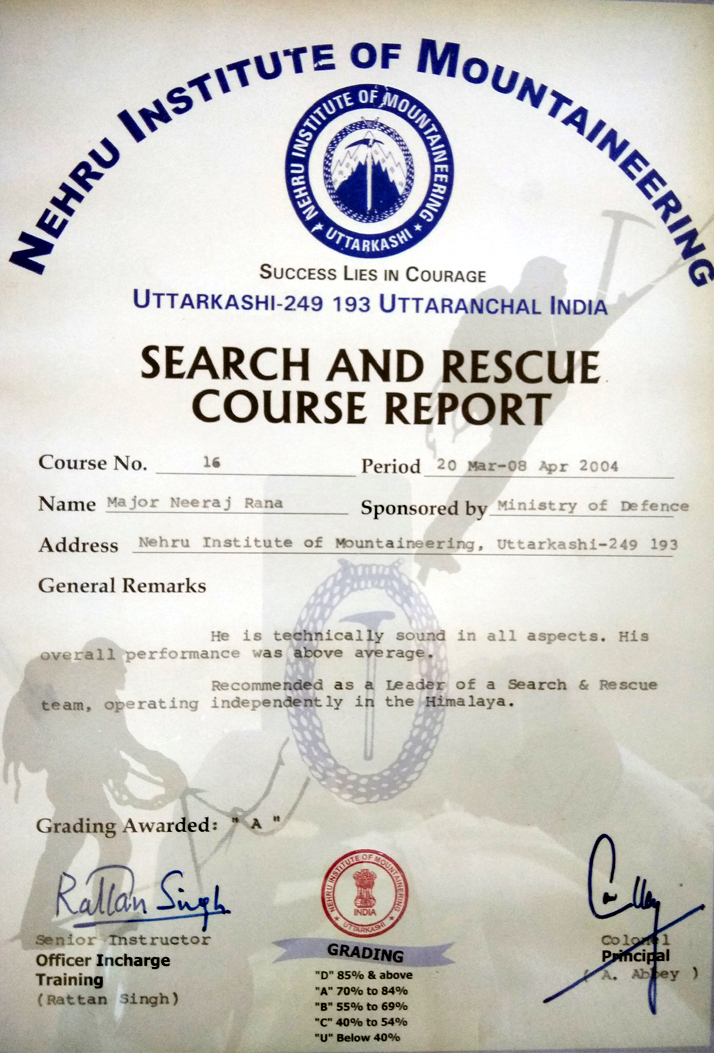 JUST PAY AS PER EMERGENCY.CERTIFIED LEGAL BILLS WILL BE GIVEN TO SETTLE YOUR CLAIMS WITH THE INSURANCE COMPANY.
RESCUE (DOES NOT COVER MEDICAL EMERGENCY)
IF CLOSER TO ANY ROAD WITHIN 50 KMS OF ROAD DISTANCE .50 KMS IS ON FRONT RIDGE BETWEEN 360 TO DHARAMSALA. FLYER LANDING WITHIN 1KM OFF THE ROAD THIS IS THE PRICE 300$
ANYTHING BEYOND THE FRONT RIDGE AND BEYOND 1 KMS OFF THE ROAD THEN PRICE PER HOUR WILL BE 100$
A SECURITY DEPOSIT OF 650$ WILL BE KEPT ON ARRIVAL FOR THOSE INTERESTED.SHOULD NO EMERGENCY HAPPEN SECURITY DEPOSIT WILL BE FULLY REIMBURSED.
MEDICAL EMERGENCY 600 $
WHAT IT INCLUDES?
> CERTIFIED DOCTOR MBBS MD ON SITE FOR FIRST AID AND ANY EMERGENCY LIFE SAVING PROCEDURE BEFORE REACHING THE HOSPITAL.
> AMBULANCE VAN
> 01 NURSING ASSISTANT
> COST COVERS TILL YOU ARE ADMITTED IN THE HOSPITAL
> GUESTS STAYING AT THE HOTEL ARE ENTITLED TO 10% DISCOUNT ON EMERGENCY SERVICES.
YOU WILL BE CHARGED $ 50 PER REGISTRATION NON REFUNDABLE AS ONE TIME SERVICE CHARGE.
NOTE:- IN CASE OF HELICOPTER EVACUATION FROM THE PRIMARY HOSPITAL TO A SUPER SPECIALIST HOSPITAL/AIRPORT THE CLIENT WILL HAVE TO GIVE HIS CREDIT CARD DETAILS TO COVER THE COST OF HELICOPTER EVACUATION BETWEEN THE HOSPITALS.(CLIENTS SHOULD HAVE HELICOPTER EVACUATION INSURANCE TO AVAIL THE FACILITY)THE CLIENT WILL NOT BE CHARGED FROM HIS CREDIT CARD TILL THE ACTUAL EVACUATION IS DONE.
PRICE FOR HELICOPTER EVACUATION IS PER HOUR FLYING TIME @ 2500 $ .
THIS SERVICE IS AVAILABLE FROM MID MARCH TILL END JUNE AND MID SEPTEMBER TILL END NOVEMBER EVERY YEAR.
NON REGISTERED PILOTS/SOS CALLS WILL ONLY BE ENTERTAINED ONCE SECURITY DEPOSIT HAS BEEN MADE WITH US.
RETRIEVAL OF EQUIPMENT DURING MEDICAL EMERGENCY OR RESCUE IS NOT PART OF THE PACKAGE.
HOTEL SAGARMATHA BIR
EMERGENCY CONTACT NUMBERS +91-9816093254 AND +91 9418779254
EMAIL ranamikey1@gmail.com
ANY OTHER QUERIES FEEL FREE TO REVERT.
SAFE AND HAPPY FLYING